Design Express!...The Fastest and Easiest Way to Order Your New Sign, Online.
Here at SignsUS.com we know how important time is, that's why we created Design Express. Simply upload an existing design or file and expediate the production of your new sign.
No more wondering how your new custom sign will turn out. Or how much it's going to cost when everything is said and done. You'll know exactly what to expect, in advance. We have created a fast and easy way just for you.
Simply click on "Lets Get Started" and upload your design. In addition you will be able to add text, choose a background color and even borders if desired
Your files will be carefully checked by our Graphic Designers for image quality and resolution prior to production.
Have questions about what files work best? Check out our Artwork Guidelines for all the information you need.
Trust in your design and our expertise to create an exceptional custom sign. A custom sign designed by you, produced by us...Presto!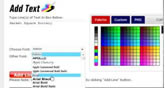 Easiest Way to Price a Sign Online
1:57min
How to Locate and Send Us Your Artwork
1:57min
Artwork- Geek Speak for Graphic Designers
3:16min
Artwork- Where is My Artwork?
2:01min
Artwork- The Good, The Bad and The Ugly
3:38min