Custom Vehicle Lettering & Graphics Move Your Business!
Vehicle lettering will aid you in creating a business"brand" that potential clients recognize immediately. Your vehicles are forever on the move. Use them to your advantage. It's advertising on the go, targeting the market areas you are already working in and the new ones you hope to break into. Since vehicle letters and vehicle graphics are customizable you have the power to create your own "brand" that is all about your business and the services your provide. With well designed vehicle advertising, clients will know your business and trust the quality you provide. A well trusted and recognized business is bound to succeed.
Vehicle letters combined with vehicle graphics as an advertising stratgey is just good business. Being in the right place at the right time is so important. Vehicle advertising provides you with that service. Vinyl vehicle graphics are always in the line of sight for current and potential customers and their associates. When your customer is in need of a service, and your company vehicles are on the move, you are providing them that important information. And that's a huge plus for you and your business. Ease and confidence when looking for a service is so important to customers and you provide that with vehicle advertising.
Vehicle Lettering Options
Truck Lettering can span the entire surface area of your vehicle. Use vinyl lettering and vinyl graphics on the cab, tailgate and bed to promote your livelihood. Vehicle advertising isn't reserved just for vans and box trucks with larger surface area. Create a custom design for your truck or have one of our graphic designers create on for you for free.
Car Lettering is probably the most practical of all vehicle lettering, simply because we spend a large portion of our time in the car. Whether it is during the business day or after hours just running errands, applying vehicle graphics to your automobile is another way to increase your company's exposure. Custom vehicle lettering is like a business card on wheels.
Van Lettering can do so much for you and your business. With such a large area to work with, you can really get your message out there. Take advantage of the surface area and create large bold colorful vehicle graphics to grab the attention your business desires. Not only can you use vinyl lettering but maximize your exposure by using window perf on the windows. Our window perf allows you to see out, but provides a solid graphic on the outside.
Box Truck Lettering can really elevate your business image. A box truck with vinyl lettering is much more professional than a plain delivery truck. Customer will see your dedication and commitment based on the pride you take in your own business. Branding your box truck with your company name, services and contact information can really help customers and even potential customers take comfort in the fact you are professional and dedicated to their satisfaction.
Enclosed Trailer Lettering combined with other vehicle lettering is a sure way to grow your business. Using vinyl letters and vehicle graphics applied to your trailer presents professionlism to your clients. Looking and working professional is key to customer satisfaction and repeat business, keep your business looking professional with vinyl letters and graphics for your enclosed trailer.
SUV Lettering promotes your business continuously. Customizing your SUV with vehicle lettering can help promote your business even when you aren't working. A vehicle with vinyl lettering and graphics is a billboard on wheels. Tell your target audience who you are, what service you provide and where to find you. You will be amazed with the increase in business from vehicle advertising. Let your SUV work for you, apply personal business lettering and graphics.
Motorcycle Lettering can be just like your motorcycle. Stylish, fast and all about you. Customize your motorcycle with vinyl lettering and vinyl graphics. Make that motorcycle even more of a statement. Roll up on your bike with style, sporting graphics and lettering that is personal to you. Have a team of motorcycles? Unite the group by designing a graphic for everyone.
Boat Lettering can make you recognizable as you are sailing the high seas. Apply vinyl lettering and vinyl graphics to your boat. Customize your boat with "her" name or your favorite saying. Add your registration numbers with vinyl letters too. Any addition of graphics to your boat will make you stand out as your travel the seven seas.
It's important to make the most of every venue when it comes to promoting your business or event. Your vehicles are in use daily. Make the most of them. Using your vehicles as advertising real estate you will see a dramatic increase in your business and the professionalism of your team. Whether it is simply your name and phone number or a complete package of graphics, letters and more, applying graphics to your fleet is just good business.
<script type="text/javascript">var switchTo5x=true;</script> <script type="text/javascript" src="http://w.sharethis.com/button/buttons.js"></script> <script type="text/javascript">stLight.options({publisher: "86bf83f0-7ee9-4c74-bb04-7a1e186a0519"});</script> <span class='st_facebook_hcount' displayText='Facebook'></span> <span class='st_twitter_hcount' displayText='Tweet'></span> <span class='st_googleplus_hcount' displayText='Google +'></span> <span class='st_pinterest_hcount' displayText='Pinterest'></span> <span class='st_email_hcount' displayText='Email'></span>
Recent Customer Testimonials
"I had an excellent experience as a customer. The web page to create the sign is very easy to use. I do note that when I attempted to place the order, the web page gave an error message which was something like "Cannot resolve state", and this stopped me from placing the order. I assume this was because my address is in Canada (the province Alberta which is not on the list of states in the US, but it was on your pull-down menu). However, this was not a problem, because I called the 800 number on the web page and got a lovely young lady - I think her name was Lori - who found my order in your system, and took my credit card number over the phone to complete the order. The signs arrived in the mail yesterday and got installed today."

Doug and Kimberley McEwen

Design or Price Vehicle Lettering
Design Online
Price Now
Unlimited proofs with every sign. We send a proof of your design to ensure 100% satisfaction before we ship.

Free shipping on all vehicle lettering for orders within the continental US greater than $50 for ground and greater than $400 for freight
Vehicle Selections
Truck Vehicle Lettering & Graphics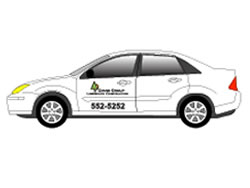 Car Vehicle Lettering & Graphics

Van Vehicle Lettering & Graphics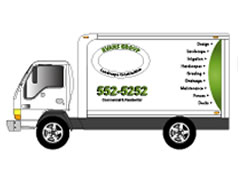 Box Truck Vehicle Lettering & Graphics

Enclosed Trailer Lettering & Graphics

SUV Vehicle Lettering & Graphics

Motorcycle Lettering & Graphics

Boat Lettering & Graphics

Are Vehicle Letters Right for you?
Use our material selection wizard to help you determine the right sign material for your needs.
Find Out Now