Custom Banners Get Your Business or Promotion Noticed!
Printed Vinyl banners prevent your company or promotion from being missed or looked over. Custom banners allow your potential clients constant access to all your important business information. Always having this information available is a guaranteed way to increase your business and your business exposure. Vinyl banners with there vibrant colors and professional finish assure your promotion will get noticed.
Custom banners are known to increase businesses profits and help them succeed. Using full color banners will make your business stand out, while traditional in shape and size they offer so much more. They offer you the chance to show your company's "personality", a strong business personality helps potential clients recall or recognize your company when they need the service you offer.
Vinyl Banner Options
Outdoor Vinyl Banners are in high demand. Custom banners for outdoor applications can be seen everywhere. They are lightweight, easy to install and are resilient to weather conditions. Full color banners for the outdoors provides your company or promotion that "pop" that will catch the eyes of not only current clients but new clients as well. Vinyl custom banners for the outdoors are a must for all types of businesses that want to be noticed.
Indoor Vinyl Banners are great for additional advertising once your clients have entered your business, take this opportunity to promote yourself or business further. Because custom banners are ideal for indoor applications, use them to, promote upcoming events, specials or even just to celebrate the holidays. Full color banners are extremely affordable and are perfect for all businesses to have multiple banner signs within arm's reach.
Retractable Banners are the newest trend in business promotions. Their lightweight design and easy storage make them a must for all businesses. Available in a vareity of sizes, you will have no problem finding the right fit for you business. Produced with the same full color banners as hanging banner signs, these displays offer you a new and sleek way to add custom banners to your advertising agenda.
Trade Show Banners are excellent venues to exposure your business or product to a large audience. Making the best impression is paramount. Choose full color banners to draw attention not only to your product but to your business. Combined your custom banner with a retractable banner stand and create a trade show booth that is the talk of the show. Available in any size, custom banners for trade shows can be combined to form backdrops, complete booth displays or used in a smaller scale to promote specific business features.
Street Banners are great for promoting events or upcoming attractions. Usually these vinyl custom banners span the width of a street and are extremely large. Though large in size, they still are vibrant full color banners, that are easily installed. Though some special instruction do exist for effective and long lasting mounting of your street banner signs, it is still a rather simple and straight forward mounting endeavor.
Jump to: Facts | Testimonials | Videos | Gallery
<script type="text/javascript">var switchTo5x=true;</script> <script type="text/javascript" src="http://w.sharethis.com/button/buttons.js"></script> <script type="text/javascript">stLight.options({publisher: "86bf83f0-7ee9-4c74-bb04-7a1e186a0519"});</script> <span class='st_facebook_hcount' displayText='Facebook'></span> <span class='st_twitter_hcount' displayText='Tweet'></span> <span class='st_googleplus_hcount' displayText='Google +'></span> <span class='st_pinterest_hcount' displayText='Pinterest'></span> <span class='st_email_hcount' displayText='Email'></span>
For indoor and outdoor use
Printed in vibrant color
High gloss or matte finish available
Completely waterproof
High tolerance to wind, hot and cold weather extremes
One or two sided banners available
Durable, but lightweight
Easy to install and mount
Available in any size
Available in any color, design or style
Recent Customer Testimonials
"Thanks for all your help, speed service and great product. This is my 4th sign ordered on behalf of our organization and once again I am pleased. Rest assured, if more/new signs are needed you will be not only my first choice, but my only choice. "

Lawrence Houghton
Brewster Park Club

Design or Price a Banner
Design Online
Price Now
Unlimited proofs with every sign. We send a proof of your design to ensure 100% satisfaction before we ship.

Free shipping on all Vinyl Banners for orders within the continental US greater than $50 for ground and greater than $400 for freight
Are Vinyl Banners Right for you?
Use our material selection wizard to help you determine the right sign material for your needs.
Find Out Now
Materials Similar to Vinyl Banners
Acrylic Signs

Coroplast Signs

Digital Posters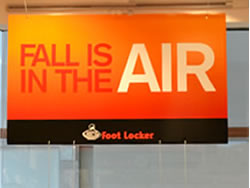 Foam Core Ultra Signs