Dura-Wood Signs Can Put You Ahead of the Competition!
Dura-Wood signs can help your business stand out, in a world of business signs that may all look alike. A custom Dura-Wood sign can create a greater opportunity for you to connect with prospective clients. With a custom Dura-Wood sign your business and brand will remain in the clients mind and line of sight longer than your competitors. With a Dura-wood sign you can say what other companies don't. It is an opportunity to tailor your business sign for your client market.
It's important to stand out in the business world, so with a creative Dura-Wood sign you can move ahead of your competition and be in the forefront of your clients' mind. A creative Dura-Wood sign can ensure your business successful revenue. You have complete control over what your Dura-Wood sign looks like and what it says about you and your service. You can create "branding". This allows you to stand out from other companies offering the same service.
Dura-Wood Signs
Our custom Dura-Wood signs are created on the best quality MDO exterior plywood. These signs are extremely durable, highly versatile and are ideal for commercial, industrial, land and retail applications, and these custom project signs can be made any size to your specifications. Each sign is primed, painted and sealed to protect it from the outdoor environment. They can be screwed or nailed through, and brackets can be used to attach these signs to a post or wall.
Dura-wood signs come with the options of trim cap. Trim cap not only acts as additional protection for the edges, but gives your new custom Dura-Wood sign a more finished polished looked. Available in a variety of colors, finding one that compliments your sign design will take no time. Trim cap is reserved for those traditional sign shapes, square, rectangle and vertical rectangle. In most cases trim cap is not available for custom shapes.
Jump to: Facts | Testimonials | Videos | Gallery
<script type="text/javascript">var switchTo5x=true;</script> <script type="text/javascript" src="http://w.sharethis.com/button/buttons.js"></script> <script type="text/javascript">stLight.options({publisher: "86bf83f0-7ee9-4c74-bb04-7a1e186a0519"});</script> <span class='st_facebook_hcount' displayText='Facebook'></span> <span class='st_twitter_hcount' displayText='Tweet'></span> <span class='st_googleplus_hcount' displayText='Google +'></span> <span class='st_pinterest_hcount' displayText='Pinterest'></span> <span class='st_email_hcount' displayText='Email'></span>
High quality MDO (Medium Density Overly) plywood core
Factory sealed and primed
Superior exterior sign material
Standard 1/2" thickness
Extreme tolerance for cold, hot, humid and wet climates
Highly rigid with a weight of only two pounds per square foot
Easy do-it-yourself mounting
Plastic trim cap available for additional edge protection
Available in any size
Available in any shape
Available in any color, design or style
Recent Customer Testimonials
"We could not thank you enough for the prompt, courteous service provided by your company. There was not one thing we could complain about. We were amazed at the accuracy of our product and delivery time. We will definitely continue to use your services as the needed."

Janice M. Lopez
Preferred Elevator, Inc.

Design or Price a Dura-Wood Sign
Design Online
Price Now
Unlimited proofs with every sign. We send a proof of your design to ensure 100% satisfaction before we ship.

Free shipping on all Dura-Wood Signs for orders within the continental US greater than $50 for ground and greater than $400 for freight
Are Dura-Wood Signs Right for you?
Use our material selection wizard to help you determine the right sign material for your needs.
Find Out Now
Materials Similar to Dura-Wood
ARMOUR-Wood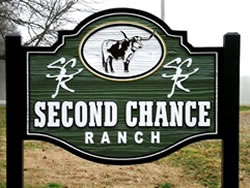 Sandblasted Redwood Signs

HDU Signs