Posters, Poster Print, Poster Design, Custom Posters, Big Poster, Large Poster Printing, Posters Artwork, Posters Online
Demand Attention with
Vibrant Posters
from SignsUS!
A simple but high quality poster can add value to your business or organization by stating your message in a cost effective yet eye-catching manner. We offer three distinct options for your custom poster: glossy photo paper, matte finished paper and waterproof vinyl. At SignsUS, we use only eco-friendly, fade resistant permanent ink. Your colors will stay vibrant and true for ten years indoors, or five years if your poster is displayed in a window. All posters are very easy to put up and remove — we can even mount your poster on Foam Core Ultra or PVC plastic to give it that professional look!
Custom posters are ideal for many different uses. Use a poster to spread awareness of your company's mission, display rules or instructions in schools and factories, effectively promote an event, decorate your home, draw people to your tradeshow booth, or sell more goods in your store.
Here are the key points to know about our custom posters:
The poster material itself is:
Available in glossy photo paper, matte
finished paper or waterproof vinyl
Colors appear most vibrant on glossy
photo paper
All three materials are very flexible
making them easy to mount, remove
and roll up for storage
Ink is eco-friendly, fade resistant and
permanent
Ink stays vibrant for ten years indoors
or five years
when displayed in a window
Posters are recommended for indoor use
only
Posters can be up to 4' tall and any
desired width
We can mount your poster on foam core
ultra or PVC plastic for a professional look
Our vibrant colors and designs attract
attention
Plus, custom posters are highly versatile:
You can get any size you want
Any colors
Any design, artwork, photo or logo can
be used for

Sometimes, all you want is the bottom line!
Custom posters are the most economically priced signs available. Our online poster pricing tool instantly calculates the exact prices on poster printing, shows you quantity discounts, and even lets you compare this product to other indoor sign alternatives!
And don't forget…at SignsUS, shipping for posters and all other indoor and outdoor signs is free for orders within the continental US greater than $50 for ground and greater than $400 for freight, and orders outside the state of South Carolina are tax-free!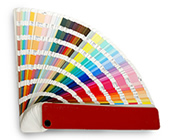 We offer more colors for custom posters than anyone out there on the web!
You can now choose from ANY color under the sun when designing your new poster. We do not charge extra for full color printing. And our ink is always eco-friendly, fade resistant and permanent.
Big or Small, We Do It All!
While most sign companies are setting limits to what size your poster can be, we are printing posters in every size imaginable!
We can cut standard sizes, odd sizes and even extra small sizes for you. All poster paper comes on 54" rolls, which means your custom poster can be up to 4' tall and absolutely any width you desire!
Displaying your custom poster is easy! You can use masking tape, double sided tape, sticky tack or push pins to mount your poster to virtually any surface imaginable. We can also mount your poster on foam core ultra or PVC plastic to give it a more professional look.
"I just wanted to write and let you know that your website made it easy for me to design a poster, my final design draft was sent for my approval very quickly, and my sign shipped so fast and got here in plenty of time for my anniversary.

The whole process was pleasant and efficient, and your customer service is great. I will order from you in the future when I need another sign. Thanks again for your great service."

Jeanne

"Your company's ordering process was smooth, and we are very satisfied with the posters you produced for us.

I can say that I searched for our needs via the web for a few days before coming across your site. I found it very easy to understand what I was getting from you and all communication was excellent.

Again thank you for your time and product."

Jason Maurer
Cardinal Health
Groveport Ohio
Poster Signs- What Sizes are Available for Poster Signs?
1:25min
Poster Signs- What Shapes are Available for Poster Signs?
0:43min
Trade Show- Selecting the Right Products for Your Trade Show Display
0:43min
Banner Stands- Economy Grade Retractable Banner Stand
2:21min
Banner Stands- Premium Retractable Banner Stand
5:44min
Banner Stands- Selectiong the Best Graphics & Printing Options
3:29min
Banner Stands- Comparing 3 Levels or Retractable Banner Stands
1:39min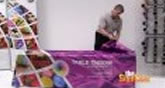 Trade Show Display- Premium Table Covers
2:51min
Trade Show Display- Pop Up Wall
6:09min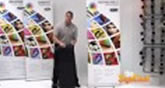 Banner Stands- Shipping Case for Your Retractable Banner Stands
2:29min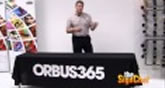 Trade Show Display- Table Covers
2:03min
Banner Stands- Standard Grade Retractable Stands
3:10min
Banner Stands- Using Banner Stands to Create a Quick Wall
2:30min
Frequently Asked Questions About Custom Poster Printing
Full Color Poster Design
"Which poster material should I use?"
Glossy photo paper is our most popular poster material because it enables colors to appear more vibrant than matte finished paper or vinyl. However, our vinyl material is waterproof which makes it an excellent choice for schools and other environments with lots of kids. Matte finished paper has a clean, crisp, conservative look that some businesses favor. But all of our materials look professional — it's really about what you prefer.
"What kind of ink does SignsUS use?"
We print all posters with Green/Eco-Friendly Permanent Ink. This ink…
…is fade resistant
…will stay vibrant for 10 years indoors
…will last 5 years indoors if displayed in a window
"How large can I make my poster"
All of our poster paper comes on a 54" roll. Therefore, your poster can be printed on any small size of your choice, and up to 4 feet tall x ANY length desired!
"How many copies of my poster can I order at once?"
At SignsUS, the possibilities are endless! You can print one poster…or thousands!
"Can I have my poster mounted?"
We recommend having your poster mounted if you plan to use it for long-term purposes. We can mount your poster on foam core ultra or PVC plastic. Foam Core Ultra is a thick foam material created specifically for signs. It is coated on both sides with thin, waterproof plastic to make it sturdy and durable. PVC is solid plastic custom signage material and is slightly more durable than Foam Core Ultra.
"Why are posters less expensive than other signs?"
Posters are less expensive than other signs because non-rigid sign materials are typically less expensive than thick and sturdy sign materials. While we put just as much effort into designing and creating a poster, many other signs require more labor and materials. Posters are a great value because they enable you to get your message across effectively without the high price tag.
"How do vibrant posters demand attention?"
A simple poster can add a great deal of value to your organization.
Reasons why business owners need posters include:
Posters can help you communicate and spread awareness of
your company's mission
They are a bold way to display work instructions in your factory
They can effectively promote an event.
In-store point-of-purchase posters demand attention and sell
more goods
And our poster's vibrant colors and designs attract attention
and draw people to your tradeshow booth.
Here are a few key characteristics of posters from TheSignChef
Custom posters can be printed on glossy photo paper, matte finished
paper or waterproof vinyl
They are printed with Eco-Friendly permanent ink that is fade
resistant
Are very flexible, and are easy to put up and take down
Posters are recommended for indoor use only
How far away will the vinyl letters on my custom signage be visible from?
Letter Visibility Chart
| | | |
| --- | --- | --- |
| Letter Height (Inches) | Distance For Best Impact | Maximum Readable Distance |
| 3" | 30' | 100' |
| 4" | 40' | 150' |
| 6" | 60' | 200' |
| 8" | 80' | 350' |
| 9" | 90' | 400' |
| 10" | 100' | 450' |
| 12" | 120' | 525' |
| 15" | 150' | 630' |
| 18" | 180' | 750' |
| 24" | 240' | 1000' |
| 30" | 300' | 1250' |
| 36" | 360' | 1500' |
| 42" | 420' | 1750' |
| 48" | 480' | 2000' |
| 54" | 540' | 2250' |
| 60" | 600' | 2500' |
How can I use SignMagic to price my custom poster?
This Site Powered by:
Using SignMagic Online Aluminum Sign Design Center, Step #1 allows you to choose the size area which most closely matches the space you have available.
For example,match the closest size available in Step #1 to the size that you have in mind.
The instant you click on Step #1 to select the space you have available, look down towards the lower right portion of your monitor and you will instantly see your base price automatically appear. That's all there is to it.
You Are In Control
Never an Obligation to Buy with SignMagic
Type in all the text you want and re-size the letters to fit that selected area, all for the same low price!
Pricing automatically updates in real time either up or down depending on the add-on options(like drop shadows and outlines) you add or delete from your design. Remember you are in control!
"This automatic real-time pricing feature makes it quick & easy to balance the final price with the custom options available to you."

Tim Harrelson - CEO
25 Years Sign Experience
How do I know that my custom poster will turn out the way I want?
Are you concerned that your custom posters may not turn out the way you want?
After all, we are probably hundreds of miles away from you, so how can you be certain your order will turn out right? Fortunately, it only takes seconds to transmit full-color custom poster designs from our computer to yours because e-mails travel so fast these days.
Upon order approval, here's how the process works:
First, your order goes straight to our Art Department
Our graphic designer will then e-mail you a proof
(a "proof" is a picture of what your sign will look like)
Once you review the layout, let us know if you would like to see any changes, and …
If you have any changes, we will e-mail you proofs as needed until you're completely happy with your design.
"Do you offer any buyer protection guarantees?"
Yes! Every poster order comes with a 100% Buyer Protection Guarantee
Sometimes, we make mistakes. We are only human after all. But it's how a business handles mistakes that counts, wouldn't you agree? So if we do happen to overlook something on your order, we will bend over backwards to make you happy. We stand behind our work with a 100% Customer Satisfaction Guarantee.
We will promptly replace any product that is defective in workmanship or that is different from what you approved. And for your trouble, you'll even get a very pleasant surprise gift.