PVC Plastic Signs are Available in Any Size, Shape and Thickness!
PVC plastic signs say and do more for your business, all without a large investment. We all want more for the dollar, any smart business owner and shopper will tell you that. Custom PVC plastic signs do so much more than just advertise your business, they promote it with style and flare. PVC plastic signs are an affordable investment with the "wow" impact, just a preview of what they can expect from you or your service.
Nothing works harder for you than PVC signs. It is the perfect plastic sign material for all you interior business needs. Imagine the growth of your business with a PVC plastic sign. With just a small investment you will be on your way to a successful, reputable and profitable business. Your investment will pay off in no time.
PVC Plastic Signs
Custom PVC signs are actually Polyvinyl Cholride (PVC) and one of the most popular choices for all indoor sign needs. PVC plastic signs are lightweight, so installation is quick and simple. Double sided tape, mounting screws, adhesives or blind fastener system are the most common installation methods. They have a very professional smooth finish. This satin finish eliminates reflection and glare, which is ideal for businesses. Because this plastic sign material is prone to warping in extreme heat, we recommend this product for indoor signs only.
With a variety of thicknesses available, your custom PVC sign can be produced to fit the needs of your business. Because of its lightweight construction, PVC is great for 3D signs. Simply layering pieces of PVC on top of each other can create a great dimensional sign that really grabs attention. our PVC plastic signs are available in any shape. Custom shaped signs are another big reason why business owners select PVC as their plastic sign material. Getting exactly the look and style you want in a sign is important, and the versatility of PVC meets that demand.
Jump to: Facts | Testimonials | Videos | Gallery
<script type="text/javascript">var switchTo5x=true;</script> <script type="text/javascript" src="http://w.sharethis.com/button/buttons.js"></script> <script type="text/javascript">stLight.options({publisher: "86bf83f0-7ee9-4c74-bb04-7a1e186a0519"});</script> <span class='st_facebook_hcount' displayText='Facebook'></span> <span class='st_twitter_hcount' displayText='Tweet'></span> <span class='st_googleplus_hcount' displayText='Google +'></span> <span class='st_pinterest_hcount' displayText='Pinterest'></span> <span class='st_email_hcount' displayText='Email'></span>
For indoor use only
The material is completely waterproof
Lightweight and thin
Available in three thicknesses
The most durable indoor sign material
Has a smooth satin finish, prevents glare and reflections
Last for decades inside
Easy to install and mount
Available in any size
Available in any shape
Available in any color, design or style
Recent Customer Testimonials
"Wow! I just wanted you all to know, I received my signs today. We inspected the package and were extremely pleased with the packing and shipper, they arrived unharmed and in perfect condition! And the sign! I couldn't be more pleased! The colors are perfect!!!!!! I can't wait to order more signs from you! Once we get the sign installed we will send you a picture. Everyone I talked to in your company was so wonderful and eager to help and answer my questions. What else can I say, you took my sign dream and made it a reality! Thank you so much! Great job! and Fantastic Service!!!"

Tanya Nodich
ND, DCM(P), C/QBS, CNHP

Design or Price a PVC Plastic Sign
Design Online
Price Now
Unlimited proofs with every sign. We send a proof of your design to ensure 100% satisfaction before we ship.

Free shipping on all PVC plastic signs for orders within the continental US greater than $50 for ground and greater than $400 for freight
Are PVC Plastic Signs Right for you?
Use our material selection wizard to help you determine the right sign material for your needs.
Find Out Now
Materials Similar to PVC Plastic Signs
Acrylic Signs

Coroplast Signs

Engraved Plastic Signs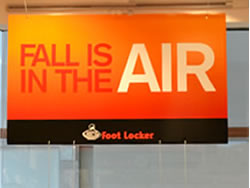 Foam Core Ultra Signs