Indoor Signs Speaks Volume About Your Business!
Indoor signs can speak volumes to your clients before they even make contact with you. Imagine the the potential business you will get from your custom indoor sign, not only is it functional it's pleasing to look at. You will stand out from your competitors with your visual pleasing indoor sign and it's design.
Use your imagination and creativity when designing your indoor signs, it will represent you and your talents. With any combinations of color and art you can create an indoor sign that is recognizable at a glance. Whether it's a custom acrylic indoor sign, engraved door sign, full color poster or an amazing banner, create the custom interior signage the you feel represents your business and your personality. That personal touch instills comfort and trust in your client, giving them the faith that you are the right business choice for them.
Indoor Sign Options
Acrylic Signs are popular for a contemporary corporate look. Produces a sleek polished business image. Available in a variety of colors, sizes and finishing options.
Door Signs , are usually made from a vast selection of color, engravable sign material. With one of the largest selections available you will have no trouble finding the perfect look for your business or promotion.
Hanging Signs can really catch the attention of clients and those passing by. An elevated sign puts you on top of your competition. Our indoor hanging signs are available in many different wide selection of materials. All easy to install and promote your business. Unsure how to hang your sign? Ask us, we are happy to help. We have many hanging sign accessories and options.
Posters are the most inexpensive indoor sign materials. While being cost effective, they still are available in full color and any size you need. From the smallest 2"x3" rally annoucement to the 4'x6' film festival advertisement, we've got you covered. Check out all our accessories to take your indoor poster to a whole new level.
ADA Signs are a must for all businesses. We have all the ADA regulated signs as well as the option to custom design your own. These light weight signs are generally made of plastic and are easy to install, either with mounting tape or small screws. Open up your business to a whole new crowd with ADA signs.
Door & Window Lettering may not be your traditional indoor sign, but they work just as hard. Vinyl letters and graphics are seen on windows and doors everywhere and are worth their weight in advertising gold. Affordable, easy to install and change out, vinyl letters make business promoting easy. View all your vinyl letter colors and finishes to find the right fit for you business.
Foam Core Ultra Signs are one of the most popular indoor sign selections. More durable than regular foam core, these signs last longer and have a more polished finished look. Ideal for retail use and with proper storage can be used over and over. Light enough to hang but sturdy enough to be displayed on counters and table-tops.
PVC Signs are available in any custom shape. This design option makes them our clients favorite interior sign choice. With three thicknesses to choose from, we can help you decide what is right for your promotion or business. These indoor signs can be displayed as wall mounted signs, hanging signs, and even free-standing advertisements.
Banners aren't just for outside business promotions. Some of the most effective business advertisement are indoor banners. Single or double sided, banners are simple to install and store. They are great for recurring events or promotions. With an assortment of finishing options availalbe, banners are ideal for even the most difficult sign hanging locations. Selecting a banner for an indoor sign is an effective way to promote yourself.
Dry Erase Signs give you a reusable surface over and over again. We offer almost every sign material in a dry erase option. Keep track of sales, promotions or daily updates with a custom dry erase sign. Indoor signs with the dry erase feature are applicable for all businesses, large or small. Your dry erase sign can even be made into a custom shape and in any size you need.
3D Letters give your business a new dimension, literally. 3D letters are great indoor signs because they add a stylish look to your interior and your business. We can produce 3D letters to any size and color, to fit your interior signage needs. Our letters are made from various materials and can be produced in a light weight plastic or heavy guage metal.
Decals are very similar to vinyl letters with one main difference, they have a background. Decals are solid shapes, designs, or logos, almost like a large sticker. Our decals are available in any size, shape and can even be contour cut to a custom design and shape, which makes them extremely versatile. They are easy to install and come with complete installation instructions.
Wall Lettering & Graphics are easy to install and can bring your business message inside. With vinyl lettering and graphics you can enhance any interior wall. With a diverse selection of colors at our finger tips we can create the image you seek for your business. Combining your vinyl letters with your business logo, image or graphic can bring your business image up to a whole new level. Easy to install and comes complete with installation instructions.
Flashing Boards are the newest addition to our indoor sign catalog. Stay one step ahead with a new flashing board. Popular with restaurants, bars, coffee-shops and retail outlets, but customizable for all types of businesses. Impress your clients with the flashing lights and the changing colors. The surface is WOWO (write on, wipe off) and will surely boost your sales and profits.
Engraved Signs are available in plastic, metal and acrylic. They can make even the most simple of indoor signs, sophisticated. Choose one from our hundreds of color and engraving options. Complete your engraved sign with easy and quick installation by selecting adhesive backing. Engraved signs are great for dedications, room labeling and employee appreciation.
Trade Show Displays are impactful displays and designs that can elevate and promote your business to a mass audience. We carry a large selection of retractable banner stands, table top displays and trade show booth set-ups. Combine these displays with custom signage and make an unforgettable presentation. Easy to set-up and a simple to tear down, our trade show displays make working the trade show circuit painless.
Promotional Products A successful business is the result of good promotion. We have a complete line of promotion products to help you increase your business' exposure. From business cards, bumper stickers, magnets and even custom promotional products like coolers and mugs, we can help you find the ideal promotion product.
LED Signs can work for you even after business hours. Choose a Banner Lite, that is programable and can advertise for you long into the night. Every business can benefit from a the standard Open/Close sign. With a variety of sizes and styles available finding the right fit for your business is quick and easy.
Message Boards are a smart business choice when you need a message changed out on a regular basis. With a wide assortment of sizes and styles available we can help you find the right fit for you advertising location. Each changeable message board provides multiple lines for text. An attractive letter panel with its percision grooves for easy letter insertaion provides a long-lasting background for your messages. It's a great indoor sign when you are in need of directories.
We have the widest selection when it comes to indoor signs. Rest assured that whatever your selection may be, it will be produced from the finest quality materials and present the exact business image you are after. Interior signage can really be the differenc between a successful business and one that just misses the target audience it seeks. Make your business profit by selecting the right indoor sign.
<script type="text/javascript">var switchTo5x=true;</script> <script type="text/javascript" src="http://w.sharethis.com/button/buttons.js"></script> <script type="text/javascript">stLight.options({publisher: "86bf83f0-7ee9-4c74-bb04-7a1e186a0519"});</script> <span class='st_facebook_hcount' displayText='Facebook'></span> <span class='st_twitter_hcount' displayText='Tweet'></span> <span class='st_googleplus_hcount' displayText='Google +'></span> <span class='st_pinterest_hcount' displayText='Pinterest'></span> <span class='st_email_hcount' displayText='Email'></span>
Recent Customer Testimonials
"Your service is excellent. My sign arrived exactly as ordered and it exceeded my expectaions. I will give the credit to your on line chat service tech, Julie Weber. She walked me through the entire process--sent me several quotes--treated my small order as if I was a large customer. She made the transaction enjoyable.

Dennis Evans
Co-Founder, Peaceful Thyme Farm LLC dba Shenandoah Food
Design or Price an Indoor Sign
Design Online
Price Now
Unlimited proofs with every sign. We send a proof of your design to ensure 100% satisfaction before we ship.

Free shipping on all indoor signs for orders within the continental US greater than $50 for ground and greater than $400 for freight
Indoor Sign Selections
Indoor Acrylic Signs

Indoor Door Signs

Indoor Hanging Signs

Indoor Digital Posters

Indoor ADA Signs

Indoor Door & Window Lettering & Graphics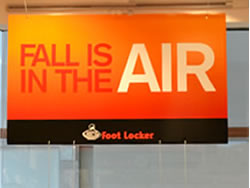 Indoor Foam Core Ultra

Indoor PVC Sign

Indoor Banners

Indoor Dry Erase Signs

Indoor 3D Letters

Indoor Decals

Indoor Wall Lettering & Graphics

Indoor Flashing Boards

Indoor Engraved Signs

Indoor Trade Show Banners & Displays

Indoor Promotional Products

Indoor LED Signs

Indoor Message Boards

Are Indoor Signs Right for you?
Use our material selection wizard to help you determine the right sign material for your needs.
Find Out Now