HDU are Custom Made for Your Business and Your Business Needs!
HDU signs are completely custom. You design what you want your HDU sign to say about you and the service your business provides. Comfort potential customers with an informative custom HDU sign. With relevant information at their finger tips customers will discover all the answers to their questions. Clients feel comfortable knowing they are contacing the right and relevant business for their needs. HDU signs can create that comfort.
A custom HDU sign allows you to tell clients exaclty how you can help them, the benefit and the extent of the service you can provide them. Knowledge is comfort and giving your marketing audience all the information they need makes them realize they are contacting your business with confidence.
HDU Signs
HDU signs are one of the most popular choices for dimensional signs because of the finishes available. We offer HDU signs in a vareity of finishes. You can select the finish that best represents your business. Not all HDU signs are "rustic". We produce a large amount of clean, contemporary HDU signs too. No matter what your business image requires, we can find a custom HDU sign to fit it.
A popular feature of dimensional signs, is the option of creating a two-sided sign. Two-sided HDU signs well, are twice as effective. Reach your target audience coming and going with a two-sided custom HDU sign. Due to the nature of how we produce two-sided HDU signs, we can not offer them in the 1 1/2" thickness. The material simply is just too thin to produce a quality two-sided HDU sign. Two-sided HDU signs are reserved for 2", 3" and 4" thick signs.
Jump to: Facts | Testimonials | Videos | Gallery
<script type="text/javascript">var switchTo5x=true;</script> <script type="text/javascript" src="http://w.sharethis.com/button/buttons.js"></script> <script type="text/javascript">stLight.options({publisher: "86bf83f0-7ee9-4c74-bb04-7a1e186a0519"});</script> <span class='st_facebook_hcount' displayText='Facebook'></span> <span class='st_twitter_hcount' displayText='Tweet'></span> <span class='st_googleplus_hcount' displayText='Google +'></span> <span class='st_pinterest_hcount' displayText='Pinterest'></span> <span class='st_email_hcount' displayText='Email'></span>
Great for indoor and outdoor use
Rustic, attractive dimensional finish
Knot-free
Variety of finishes: smooth, carved wood, pebble texture and venetian grain
More character than flat signs
Strong, rigid and solid
One or two-sided signs available
Largest selections of thicknesses: 1 1/2", 2", 3" and 4"
Finished with triple coat enamel
Available in any shape
Available in any size
Available in any color, design or style
Recent Customer Testimonials
"You said to be honest in the complaint department. So,honestly – I can't think of a single thing! Well, I thought the price could have been a little better. I think I paid $50. per sign. I might shop for a better price the next time but the service and product is exceptional. And service usually trumps price!"

Dave Collins
Big Cork Wine

Design or Price a HDU Sign
Design Online
Price Now
Unlimited proofs with every sign. We send a proof of your design to ensure 100% satisfaction before we ship.

Free shipping on all HDU Signs for orders within the continental US greater than $50 for ground and greater than $400 for freight
Are HDU Signs Right for you?
Use our material selection wizard to help you determine the right sign material for your needs.
Find Out Now
Materials Similar to HDU Signs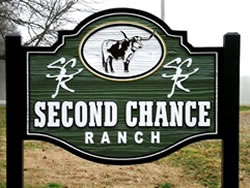 Sandblasted Redwood Signs

Outdoor Signs