Fence Signs are Completely Customizable for All Your Business and Personal Needs!
Fence signs provide you an effective way to advertise your business or promotion with steller results, at an affordable cost. There are a variety of fence signs available, and the one you choose should fit your advertising needs and efforts of your business. Fence signs can be an effective way to reach new clients and increase your business or promotion's exposure. Fence signs can stretch your advertising budget while still providing high quality advertising results.
Fence signs are readily available in a variety of materials, depending on your application or location. You can choose a aluminum fence sign with rounded corners, or a ARMOUR-Wood fence sign with trim cap or even a Dibond fence sign in a custom shape, the options are limitless. In addition we carry a complete line of mounting accessories and options to assist you in the installation of your fence signs.
<script type="text/javascript">var switchTo5x=true;</script> <script type="text/javascript" src="http://w.sharethis.com/button/buttons.js"></script> <script type="text/javascript">stLight.options({publisher: "86bf83f0-7ee9-4c74-bb04-7a1e186a0519"});</script> <span class='st_facebook_hcount' displayText='Facebook'></span> <span class='st_twitter_hcount' displayText='Tweet'></span> <span class='st_googleplus_hcount' displayText='Google +'></span> <span class='st_pinterest_hcount' displayText='Pinterest'></span> <span class='st_email_hcount' displayText='Email'></span>
Fence Sign Materials
Aluminum Fence Signs are one of the most traditional choices when it comes to selecting a sign for your exterior advertising endeavors. Aluminum fence signs have proven to be one of the most durable and reliable fence sign materials. We offer aluminum fence signs in five different thicknesses, and in a variety of finishes. In addition, aluminum fence signs are readily available in any size and shape. All these options allow you to design the perfect fence sign that fits your business or personal needs.
Banner Fence Signs make a professional impression, while remaining economical and budget friendly. Banner fence signs are the perfect choice for all types of fence signs. Whether it is to promote a business, celebrate a graduation or announce a grand-opening, banner fence signs do it all. Banner fence signs are available in a variety of sizes, all of which can assist in promoting your business or event. We craft all banner fence signs from durable 14oz. vinyl banner material. This material is durable, waterproof, vibrant and long lasting, making it a perfect choice for your fence signs.
Dibond Fence Signs are available in any shape and are completely customizable. The benefit of a dibond fence sign, is the ability to have it crafted in any shape you desire. Our high quality dibond is produced with a solid plastic core surrounded by two sheets of factory sealed aluminum. Its construction makes dibond fence signs extremely strong and durable. Dibond fence signs are available in two different thicknesses, both giving you excellent panel strength with superior rigidity. Design your custom fence sign in any shape that is suitable for your business, event or promotion. And since dibond fence signs are readily available in any size, shape and color they make the perfect choice when you require a unique and custom fence sign.
Alumalite Fence Signs are a lightweight and extremely durable solution for any application. Alumalite fences signs are manufactured with a corrugated core, sandwiched between two sheets of aluminum. The smooth aluminum surface is ideal for the application of your custom signage. Produced in any traditional shape (square, rectangle or vertical rectangle) alumalite fence signs are easy to install and are climate resistant. Available in any size, color or style, alumalite fence signs are easily customized to meet your business or promotional requirements.
ARMOUR-Wood Fence Signs are the strongest signs available for your business or promotional event. ARMOUR-Wood is constructed from a solid wood core that is sealed between two factory, high gloss sheets of aluminum. Its construction gives your fence signs superior and unmatched panel strength. Strong and durable ARMOUR-Wood fence signs can survive the elements, high traffic and strong wind. Included with all ARMOUR-Wood signs is our custom trim cap. Trim cap provides extra protection to the edges for your fence sign and compliments it with a decorative border or frame. Trim cap is available in a variety of colors and can be added to contrast your fence signs or simply blend in for a seamless appearance.
Coroplast Fence Signs are commonly chosen when you are in need of quality, short term or temporary exterior signage. Coroplast, also known as "plastic cardboard" is a durable, semi-rigid solution to custom fence signs. These fence signs are resilient to extreme weather conditions and are completely waterproof, making them excellent fence signs. Constructed from twin-wall polypropylene sheets, coroplast fence signs are lightweight and are a cost effective solution for your fence signs. Coroplast fence signs can easily be produce with grommets for quick and easy installation onto any type of fence. Use coroplast fence signs to advertise sales, promotions, events or rental property.
Dura-Wood Fence Signs are a nod to tradition, combining the nostalgia of wood with the modern durability of vinyl. Dura-Wood fence signs are produced from high quality MDO plywood and factory primed for long life, making these fence signs perfect for exterior use. In addition Dura-Wood is a superior sign material for fence signs because it's extremely tolerable of hot and cold weather extremes, withstands humidity and wet climates. Our Dura-Wood signs are made from our durable 1/2" material, giving your fence sign the presence it deserves. For easy installation and mounting, check out our wide selection of fence mounting hardware. Dura-Wood fence signs are also available with trim cap. Trim cap, not only adds additional protection to the edges of your fence signs, but compliments your fence sign with a decorative "frame" appearance.
Sandblasted Redwood Fence Signs are an ideal choice when you are seeking a rustic, attractive fence sign for your business or personal residence. Our high quality and durable redwood fence signs are crafted with patience and artistic skill. And due to redwood's organic nature, each fence sign is different, guaranteeing you a one of a kind unique fence sign. Fence signs crafted from sandblasted redwood have recessed backgrounds and raised or "carved" text, graphics and images. These fence signs are made from the finest redwood material with natural beauty that is less likely to chip, warp or split. A custom and unique fence sign that will last for years to come.
HDU Fence Signs presents you with a designer option when it comes to designing your fence signs for either your business or personal use. A perfect choice not only to promote your business but to personalize your residence. HDU fence signs have a "carved" appearance and can be made to showcase your business's logo, image or text. Proudly display a custom HDU fence sign showcasing your street address, last name or favorite family saying. Our HDU fence signs are available in a variety of thicknesses and finishes. In addition HDU fence signs can be crafted in any shape, size and style providing you with all tools to customize a fence sign that reflects your business and personal style.
Design or Price Fence Signs
Design Online
Price Now
Unlimited proofs with every sign. We send a proof of your design to ensure 100% satisfaction before we ship.

Free shipping on all Fence Signs for orders within the continental US greater than $50 for ground and greater than $400 for freight
What type of Fence Signs are Right for You?
Use our material selection wizard to help you determine the right sign material for your needs.
Find Out Now
Some Material Choices for Fence Signs
Aluminum Fence Signs

Banner Fence Signs

Dibond Fence Signs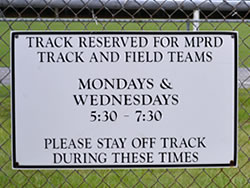 Alumalite Fence Signs

ARMOUR-Wood Fence Signs

Coroplast Fence Signs

Dura-Wood Fence Signs

Sandblasted Redwood Fence Signs

HDU Fence Signs