Sidewalk Signs Bring your Business and Promotional Message Outside, Increasing Exposure!
Sidewalk signs and sidewalk A frame signs are one of the most affordable and effective methods to advertise and attract patrons to your business or promotion. These sidewalk "sandwich board signs", as they are commonly known as, are lightweight and portable, perfect for positioning anywhere they are needed and quickly brought in at the close of business.
Our sidewalk signs, sandwich board signs, sidewalk A frames and sidewalk frames are constructed of high grade plastic and industrial strength metal, these sidewalk signs can weather years of use, all without cracking, fading or warping. And their compact and lightweight characteristics allow them to be displayed and stored almost anywhere. And for areas where wind is a concern, you will appreciate the construction of our sidewalk frames, Tilt-n-Roll signs and the sturdy nature of our sidewalk A frames, because of their spring construction or ability to be weighted sidewalk signs.
Sidewalk Sign Selections
Plastic Sidewalk A Frame Signs are commonly chosen when you require portability, durability and the option of interchangeable sign faces. Because they are lightweight, easy to store and transport easily, set up is quick. Most of our sidewalk signs are constructed with a convenient carrying handle built right in and by simply spreading the feet at the bottom, installation is complete in one easy step. Businesses that operate with different signage on a constant basis cherish how quickly the signs on these sidewalk signs can be changed. By simply sliding your signage in from either the top or side of the sidewalk signs, these sidewalk A frame signs beginning working instantly.
Sidewalk Signs are easy to use, quick to assemble and extremely effective. We provide you with one of the largest selection of sidewalk signs and sandwich board signs. With our sidewalk signs, your custom sign panels quickly slide in and out and once attached stay securely in place. With a standard range of sizes, you can change out sign blanks in minutes and even have multiple faces for different promotional or advertising tactics. Our sidewalk signs and sidewalk frames accommodate a mass variety of sign materials, including coroplast, aluminum, acrylic, foamboard and many more. Most of our sidewalk signs require no tools for assembly, in fact most "click-lock" securely into place, allowing you to display your custom signage instantly.
Decorative Sidewalk A Frame Signs are a stylish way to stand out from the competition. These custom crafted 47" tall sidewalk A frame signs are in a class all their own. Use these stylish sidewalk A frame signs curbside, at an entry foyer or on a sidewalk outside your business. Produced from 3/4" angle iron, with decorative ornamental iron elements and even two keeper chains, these sidewalk A frame signs look like nothing else on the block. With a lightweight design and easy sign installation (from the side) these sidewalk a frame signs accommodate two 36" x 24" sign panels and can be changed out as your business or promotional message changes.
Changeable Sidewalk A Frame Signs prove to be effective sandwich board signs because of the ability to interchange messages and advertising approaches. Our line of changeable sidewalk A frame signs are constructed from steel and rustproof hard plastic, durable for exterior as well interior use. These sidewalk frames cradle the message board so it gently rocks in a slight breeze and doesn't tip over. Because of its construction, advertising features and customization, these sandwich board signs will command attention. Our changeable sidewalk signs come in a variety of sizes and all come complete with an extremely large stock of letters, numbers and symbols. Traditionally letters are black and numbers are red for easy viewing and reading
Erasable Sidewalk A Frame Signs enable you to change sign faces instantly and with easy portability, these sidewalk signs are great for businesses that have changing promotions, products or events. Crafted to resemble traditional sidewalk A frame signs, these changeable sign face A frames are a great way to advertise effectively. With the swinging motion of the sign face, it gets your business noticed quicker than stationary sidewalk A frame signs. Produced with WOWO (write on wipe off) technology, changing out your messages is a easy as wiping the previous one off. The sign surface is laminated with a clear protective film and requires wet erase markets to prevent smudges. Cleaning is is done with an ammonia based cleaner. With many style, size and color choices available selecting the perfect fit for you business or promotion is simple and quick.
Real Estate Sidewalk A Frame Signs are a breeze to use, easy to set up and ideal for getting out your message on a daily basis. Use these sidewalk A frames not only for realty endeavors but for businesses as well. These sidewalk signs are great for in front of any business, store or promotion to grab attention as clients and potential clients stroll by. Constructed from 3/8" round rod steel, they are lightweight, making them easy to bring indoors at the close of business. Most of these sidewalk A frames are designed to display 18" x 24" signs and can be ordered to accommodate a rider for extra advertising real estate.
Sidewalk Frames are a common choice for sidewalk signs because of their versatility and variety of sizes available. Our sidewalk frames are not only available in horizontal and vertical formats but in a large assortment of sizes as well. Choosing sidewalk frames for your sidewalk signs allow you to implement a dual advertising and marketing strategy. Sidewalk frames are designed to accommodate double sided signs. Use both sides of your sidewalk frame for the same message or double your advertising efforts by creating a different message for each side. We offer a large choice of sidewalk frames from angle iron A frame to real estate sidewalk frames and sidewalk frames designed with large flat bar feet to assist in wind resistance. Many come in your choice of black or white to accent your custom sidewalk signs.
Tilt-n-Roll Pole Sidewalk Signs are one of our newest sidewalk signs and are growing more popular day by day. Our Tilt-n-Roll sidewalk signs are a 100% portable, hassle-free sidewalk signs that have a professional appearance and work seamlessly to get your business or promotional message out to the public. Constructed from a compact, low-profile technopolymer base with built-in wheels, they are strong and durable. These Tilt-n-Roll sidewalk signs' design allow it to roll effortlessly on almost all surfaces eliminating the need to lift your sidewalk signs. These sidewalk signs are extremely customizable and can accommodate any signage from 9" x 12" up to a 12" x 48". Signage can be interchangeable, allowing you to use it for many advertising and marketing events.
Tilt-n-Roll Sidewalk Signs, as with our Tilt-n-Roll Pole sidewalk signs, these signs have increased in popularity since there introduction to our sidewalk sign catalog. Constructed from the same compact, low-profile technopolymer base as their counterparts, these sidewalk signs also have compact hidden built-in wheels for easy transport. These Tilt-n-Roll sidewalk signs roll easily on most surfaces and make lifting a thing of the past. The advantage of these sidewalk signs over the Tilt-n-Roll Pole sidewalk signs is the ability to customize it with a double sided sign, allowing you to advertise in both directions, potentially doubling your business exposure. With a large sign face, 24" x 42", these sidewalk signs provide you with more marketing space. Kit includes the base and a blank sign face, ready for the application of your personal digital or vinyl graphics.
Sidewalk Sandwich Board Sign Kits are perfect when you want to transform any sandwich board signs into changeable sidewalk signs. Simply attach this complete kit to any current sidewalk sign and instantly transform any old sandwich boards signs into a custom changeable sidewalk sign. For the do-it-yourselfers, create your own sidewalk A frame signs and attach these sidewalk sign kits for completely custom and unique sidewalk signs. Our kit comes complete with two coroplast boards with permanently attached rails, 350 letters and numbers and "sale" and "special" headers, allowing you to turn all your sidewalk signs into your advertising playground.
<script type="text/javascript">var switchTo5x=true;</script> <script type="text/javascript" src="http://w.sharethis.com/button/buttons.js"></script> <script type="text/javascript">stLight.options({publisher: "86bf83f0-7ee9-4c74-bb04-7a1e186a0519"});</script> <span class='st_facebook_hcount' displayText='Facebook'></span> <span class='st_twitter_hcount' displayText='Tweet'></span> <span class='st_googleplus_hcount' displayText='Google +'></span> <span class='st_pinterest_hcount' displayText='Pinterest'></span> <span class='st_email_hcount' displayText='Email'></span>
Design or Price Sidewalk Signs
Design Online
Price Now
Unlimited proofs with every sign. We send a proof of your design to ensure 100% satisfaction before we ship.

Free shipping on all Sidewalk Signs for orders within the continental US greater than $50 for ground and greater than $400 for freight
Shop Sidewalk Sign Frames
Plastic Sidewalk A Frame Signs

Sidewalk Signs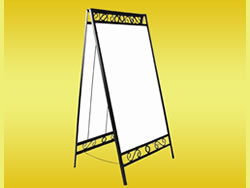 Decorative Sidewalk A Frame Signs

Changeable Sidewalk A Frame Signs

Erasable Sidewalk Signs

Real Estate Sidewalk A Frame Signs

Sidewalk Frames

Tilt-n-Roll Pole Sidewalk Signs

Tilt-n-Roll Sidewalk Signs

Sidewalk Sandwich Board Sign Kits

Are Sidewalk Signs Right for You?
Use our material selection wizard to help you determine the right sign material for your needs.
Find Out Now