vinyl banners, trade show banners, full color banners, banner printing, custom banner, vinyl banner, banner sign, banner signage
Custom Trade Show Banners
---
When you are looking for a flexible, versatile and economical way to display a message, custom vinyl banners are an ideal choice. Trade show banners are avaialbe in a variety of options including traditional banners as well as retractable banners.
Vinyl banners are one of the most popular and versatile types of signs available today, and are well suited for trade show use. The vinyl material itself is flexible, tear resistant, waterproof and highly portable. Modern vinyl banner printing processes have made trade show banners an especially inexpensive and highly professional product that you can use to promote your business.
Here are some fast facts about trade show vinyl banners:
Trade show banners are readily available
in two finishes:


A vibrant, high gloss finish
Or a more conservative, super
smooth, matte finish

Banners are easy to hang and display
(Banner stands and accessories are
available)
Vinyl banners are completely waterproof
Trade show
or two-sided
can be one-sided
Plus, trade show banners are highly versatile
You can get any size you want
They can be cut into virtually any shape
Any design, artwork, photo or logo can
be used in the banner design
And you can use virtually any color
you'd like!

Sometimes, all you want is the bottom line!
Our online trade show banner pricing tool instantly calculates the exact prices on custom banner signs, shows you quantity discounts, and even lets you compare this product to other custom sign alternatives!
And don't forget…at SignsUS, shipping for trade show signage and all other indoor and outdoor signs is free, and orders outside the state of South Carolina are tax-free!
We offer more colors for custom vinyl banners than anyone else out there on the web!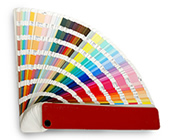 Once upon a time, trade show banner signs were limited to only a few colors per banner due to expensive vinyl cost and the immense amounts of labor required to produce multiple color Vinyl Banners.
Now we have the ability to print directly onto the banner material. No longer are we bound to restrictions in colors and the detail of clipart and graphics!
You can now use any and as many colors as you want, and photographs, graphics, images, and logos can be printed to your vinyl banner at no extra charge! So now you can end up with a large and colorful trade show banner at a fraction of the cost it would have been using vinyl graphics!
Big or Small, We Do It All!
While most sign companies are setting limits to what size your custom banner can be, we are printing trade show banners in every size imaginable!
Single, seamless banner signs from SignsUS can be as large as 20' x ANY length you'd like! This is the very largest, seamless banner size available in the market today. If you need a trade show banner that is larger than that, no worries! Just let us know, and we'll make sure to get you the vinyl banner size that you need.
There are many ways you can display your custom vinyl banner including using Velcro, pole pockets, string, wire, screws, and depending on your specific application, even twist ties!
It is important that your custom custom banner is installed properly, so each of our vinyl banner customers receives a fully illustrated Banner Installation & Display Guide with every order to make sure their brand new vinyl banner stays looking new for years to come.
Keep in mind that we feature a variety of different banner display accessories including Hang-A-Banner Rails, standard banner stands, retractable banner stands and more that make displaying your banner simple!
Our company has been to trade shows in the past, but it seemed we always got lost in the crowd. We aren't a terribly large company and have a very small budget for advertising and trade shows, so we simply hung brightly colored fabric behind our trade show tables and hung a few small posters and fliers we've been using for our company all year.

After learning how economical vinyl banners can be, we decided to purchase a trade show banner. Your graphic designer helped me create my banner from scratch, and I was surprised by how pleased I was with the banner quality. And the banner definitely grabbed the attention we needed at the trade show. We have so many new sales leads now that we just may have a bigger budget next year to make our trade show booth even better yet!

Thank you for all of your help!
Thomas McCullah
NextGen Technology
Henderson, KY

I am extremely satisfied with my experience creating and ordering a custom banner from your company. The website customer service rep I spoke with was excellent, everyone I dealt with was helpful and I love that your website is so comprehensive!

Thanks again for everything and I guarantee we will use your company again!

Best regards,
Amanda Buck
Better Business Bureau
Austin, TX
Considering reserving a Live Design session but still unsure how this service works?
Watch a real life example of a client's experience using Live Design for her Acrylic business sign!
Frequently Asked Questions About Custom Trade Show Banners
"Can I make my trade show banner two-sided?"
Yes! SignsUS offers ghost-free, two-sided vinyl banners!
Standard vinyl banner material is "translucent". In other words, you can see the light right through it. So if you put letters on both sides of standard banner material, a faint ghost image of the letters are visible on the other side of the banner. This ghosting effect can distract you're your message and doesn't look professional.
Therefore by specifying a "16 ounce blockout banner material" for your double-sided vinyl banners, you will avoid the see-through effect while adding significant strength to your custom banner For maximum durability and wind resistance, double-sided vinyl banners should have hems and grommets placed every 30".
"What is the best type of banner material to use indoors?"
The same banner material that's used for outdoor banners is great for indoor banners too. If your audience is going to be viewing your banner up close though, we offer a premium "Super Smooth" banner material option at no additional charge.
"Which type of banner material is recommended for trade shows?"
Trade shows are all about drawing new customers by putting your best foot forward. One of the best looking banner materials for trade shows is our Super Smooth banner material because it looks so great up close.
However, since a trade show is where everyone is "showing off", there is a more popular, higher end option to consider to make sure your booth really stands out in the crowd.
If you wish to project the best possible Corporate Image, there's nothing better than a full-color Flexible Plastic Banner (yes, plastic). When digitally printed on a high resolution printer, this photo receptive plastic banner material will project the highest quality appearance possible. Plus, it's so durable and flexible, it can be used again and again with a portable, retractable banner stand.
Our premium trade show banners are printed directly onto the plastic film using our high resolution, full-color printer and then protected with a laminate film on the back to preserve the image from show to show.
Visit our banner display and mounting accessories page for other display ideas.
"What are the finishing options for custom trade show banners?"
All vinyl banners can be used indoors or out. How the banners will be used (displayed), normally prescribes how the banner is finished. When displaying banners outside, always think safety first. Be sure the supporting structure is sound. Vinyl banners hung out in the open can be subject to significant wind loads. Be sure you secure your vinyl banner well using the instructions included with your order.

Style A: Hemmed edges with grommets at the top and bottom as needed. (Number of grommets needed depends on banner size)

This is the most common finishing, and is useful for a variety of applications. It is best for mounting against a wall or fence.

Style B: Hemmed edges with grommets at the top and bottom as needed, with rope sewn into the top and bottom hems. The rope ends extend out from the banner edge making ties. Rope length can be specified.

This finishing style adds versatility and strength to the basic grommet style, allowing the banner to be tied between poles or other secure fixtures.

Style C: Hemmed edges with rope sewn into the top and bottom hems. Rope extends from banner making ties. Rope length can be specified.

For vinyl banners tied between secure fixtures, this has strong construction, as it spreads wind forces over the length of the banner.

Style D: Hemmed sides with webbing sewn into top and bottom. Webbing extends as needed for ties.

This is an even stronger construction for vinyl banners that may be subjected to higher wind loads.

Style E: Hemmed sides, webbing top and bottom with grommets spaced as needed (depending on banner size).

Adding grommets offers more tie down points. This is especially helpful to support larger vinyl banners and to eliminate sagging. (Make sure the supporting structure will allow for it.)

Styles F: To support banners on hardware, sleeves can be sewn into the top and bottom of the banner. The sleeve can be sized to fit the hardware: the circumference (dia. X 3.14) of the supporting pole divided by 2 plus an inch will calculate a good sleeve size.

Style G: Grommets can be added to the top and bottom in an extra extension above and below the sleeves for more versatility in display options.

Style H: Street banners (or light pole banners) are usually finished with top and bottom sleeves with a grommet just below the top sleeve and just above the bottom sleeve.

Style I: For a very strong construction which will be attached using ties you supply, sewn in webbing with "D" rings offers a very reliable solution. When adding tie points to large vinyl banners, grommets can be added to the top and bottom, or even on the sides.
"How do I know that my custom vinyl banner will turn out the way I want?"
Are you concerned that your custom vinyl banner may not turn out the way you want?
After all, we are probably hundreds of miles away from you so how can you be certain your order will turn out right? Fortunately, it only takes seconds to transmit full-color custom vinyl banner designs from our computer to yours because e-mails travel so fast these days.
Upon order approval, here's how the process works:
First, your order goes straight to the Art Department
Our Graphic Designer will then e-mail you a proof
(a "proof" is a picture of what your sign will look like)
Once you review the layout, let us know if you would like to see any changes, and …
If you have any changes, we will e-mail you proofs as needed until you're completely happy with your design.
"Do you offer any buyer protection guarantees?"
Yes! Every vinyl banner order comes with a 100% Buyer Protection Guarantee
Sometimes, we make mistakes. We are only human after all. But it's how a business handles mistakes that counts, wouldn't you agree? So if we do happen to overlook something on your order, we will bend over backwards to make you happy. We stand behind our work with a 100% Customer Satisfaction Guarantee.
We will promptly replace any product that is defective in workmanship or that is different from what you approved. And for your trouble, you'll even get a very pleasant surprise gift.