Wood Signs Provide Exposure for Your Business!
Woods signs are hard working, just like you. Wood signs are always working for you, your service and your business. Increasing your exposure by working nonstop, 24 hours a day, 7 days a week. And because wood signs are durable and long lasting they can be used and seen almost anywhere for long periods of time. You can create a mini billboard for your company or service and have it constantly working without the overhead. No other business investment have that type of return.
Our wooden signs are extremely durable. Durability is a key factor in creating long lasting wood signs for your business. Wood signs are produced with a high quality material and completed with a finish that's long lasting and extremely resistant. A strong and tenacious custom wood sign that can withstand select elements and conditions. Less danger of your wood sign fading, weathering or deteriorating due to it's quality finish. As long as your business is around, so will your new wood sign.
Wood Sign Options
Dura-wood Signs are made of the best quality MDO exterior plywood. Dura-wood signs are perfect for industrial, land, commerical and retail applications. Available in custom shapes and any size your business needs. If you need a permanent wood sign, dura-wood is an excellent choice.
Sandblasted Redwood Signs have the charm and natural beauty of a time gone by. Made from real redwood, sandblasted to give a "craved" look to your new wood sign. Sandblasted redwood signs are knot-free, flat grain blasted and beautifully carved with raised grain. Availabe to you in any size, shape and style.
ARMOUR-Wood Signs are the one of the strongest sign materials available. With a solid wood core, sandwiched between two aluminum sheets, it's strength is no match for extreme elements or conditions. Available in the classic, square, rectangle and vertical rectangle and finished out with trim cap, ARMOUR-Wood sign will easily mount to post, walls, sign panels, fences and they create professional hanging wood signs, too.
HDU Signs , while not technically a "wood sign" can be created to resemble wood. Since it is a petroleum base material, it's naturally waterproof, meaning it can last longer than some wood signs. HDU signs are very popular because of the limitless design options. Custom shape, size and finish are just a few that will make your new sign the best it can be.
Regardless of which wood sign option is right for your business, you will receive a custom wood sign that proudly represents your business and your personal image. While wood signs are ideal for outdoor applications, don't forget they also make great interior signs as well. Here at SignsUS, you and your business is our number one concern. Let us help you make your business grow.
<script type="text/javascript">var switchTo5x=true;</script> <script type="text/javascript" src="http://w.sharethis.com/button/buttons.js"></script> <script type="text/javascript">stLight.options({publisher: "86bf83f0-7ee9-4c74-bb04-7a1e186a0519"});</script> <span class='st_facebook_hcount' displayText='Facebook'></span> <span class='st_twitter_hcount' displayText='Tweet'></span> <span class='st_googleplus_hcount' displayText='Google +'></span> <span class='st_pinterest_hcount' displayText='Pinterest'></span> <span class='st_email_hcount' displayText='Email'></span>
Recent Customer Testimonials
"If I had to complain about anything, it would be that there were to many choices. Once we decided what we wanted, we had no issues and the product we received was better than we expected.

Seriously, the process could not have been easier, the prices were reasonable, the quality was excellent, and we received our signs quickly. We have no complaints."

Kelly & Libby Bond
Gypsy Hollow Farm
Design or Price a Wood Sign
Design Online
Price Now
Unlimited proofs with every sign. We send a proof of your design to ensure 100% satisfaction before we ship.

Free shipping on all wood signs for orders within the continental US greater than $50 for ground and greater than $400 for freight
Wood Sign Selections
Dura-Wood Signs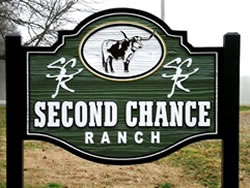 Sandblasted Redwood Signs

Armour-Wood Signs

HDU Signs

Are Wood Signs Right for you?
Use our material selection wizard to help you determine the right sign material for your needs.
Find Out Now