Custom Boat Letters and Graphics are Professional as well as Recreational!
Boat lettering and graphics can be useful professionally as well as recreational. Promoting your business on the seven seas is just as important as promoting it on the inner streets and highways. Boat lettering can give your business a boost. While enjoying what may be a hobby, you can turn that weekend boating trip into a business promotion. Use vinyl boat graphics to incorporate your business name or logo onto your sailing vessel. Taking the advantage of promoting your business where ever possible.
If your boat is purely for leisure you can still include boat lettering and graphics. Using custom boat lettering to name your boat, display your favorite saying or simply adding some visual detail to it while you sail into the sunset, is a practical way to customize your boat. Don't forget registration numbers. Boat numbers are required by law, so why not add a little style with custom boat lettering and graphics.
Boat Lettering and Graphics Explained
When it comes to boat letters and decals (graphics), there is an awful lot of confusion and misinformation in the marketplace. So below explains the two main differences between vinyl boat letters and vinyl decals.
Boat Lettering: The most obvious difference you'll see is that vinyl boat graphics (decals) have a background and vinyl boat letters don't. That's why boat letters are still so popular for lettering trailers, hull, port or starboard boat areas. Of course, vinyl is not limited to JUST letters though because we can just as easily provide the numbers, shapes, graphics or logos you need in any size or color. Now here's the difference between vinyl boat letters and decals. Custom boat letters are contour cut to shape out of solid colored rolls of vinyl. That doesn't mean they have to be a solid color though. Boat letters can be printed with any image, including wood, marble, floral patterns, special effects, a distressed look and color fades. Choosing a custom look for your registration numbers will add additional style and personality to your boat.
Boat Graphics: Decals (vinyl boat graphics) are always printed on our full-color, high definition printer, and there's no limit as to what we can print. For example, your vinyl boat graphics can be printed with photographic quality pictures, multi-Colored logos and even three dimensional letters. If you can see the image you want on your computer screen, we can print it. But we don't stop there because instead of a standard rectangle, our sign equipment can contour cut your boat graphics into any custom shape giving you the best of both worlds, unlimited colors and shapes. The combinations and possibilities are really endless! For example, you can have a contour cut decal of your logo, combined with vinyl boat letters to complete your boat lettering and graphics. Or, you could have a contour cut decal with custom printed letters to enhance the design, giving you the custom boat lettering and graphics you desire.
<script type="text/javascript">var switchTo5x=true;</script> <script type="text/javascript" src="http://w.sharethis.com/button/buttons.js"></script> <script type="text/javascript">stLight.options({publisher: "86bf83f0-7ee9-4c74-bb04-7a1e186a0519"});</script> <span class='st_facebook_hcount' displayText='Facebook'></span> <span class='st_twitter_hcount' displayText='Tweet'></span> <span class='st_googleplus_hcount' displayText='Google +'></span> <span class='st_pinterest_hcount' displayText='Pinterest'></span> <span class='st_email_hcount' displayText='Email'></span>
Lightweight and thin
Shiny, satin finish vinyl material
Includes Goof-Proof Guarantee
Easy to install
Also available in reflective and translucent
Available in any size
Available in any shape
Available in any color, design or style
Recent Customer Testimonials
"This is our third year to using you for signs for our annual school fundraiser. The printing, quality and ease of design on the computer is amazing- especially for the price! You've made me look like Superwoman! This year our order was sent to Illinois instead of Colorado.
When I returned home and called in, they told me that actually a tornado had hit the UPS train- but not to fear because they had already put a new order into processing for me! What a relief! It would have been easy to say that it wasn't their problem and to file a claim with UPS, but not only did they take that headache off my hands, they had already solved the problem by ordering new signs for us!"

Cynthia Hughes
Telluride Montessori and Mountain School

Design or Price Boat Lettering & Graphics
Design Online
Price Now
Unlimited proofs with every sign. We send a proof of your design to ensure 100% satisfaction before we ship.

Free shipping on all Boat Lettering & Graphics for orders within the continental US greater than $50 for ground and greater than $400 for freight
Is Boat Lettering Right for you?
Use our material selection wizard to help you determine the right sign material for your needs.
Find Out Now
Vehicle Lettering & Graphic Options
Truck Vehicle Lettering & Graphics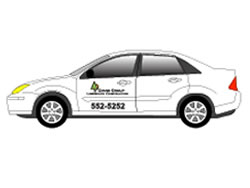 Car Vehicle Lettering & Graphics

Van Vehicle Lettering & Graphics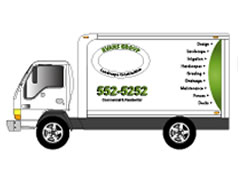 Box Truck Vehicle Lettering & Graphics

SUV Vehicle Lettering & Graphics

Motorcycle Lettering & Graphics

Enclosed Trailer Lettering & Graphics