Car Lettering Gets Your Business Noticed!
Custom car lettering draws positive attention to your business vehicles. It's proven to be one of the most affordable but necessary marketing strategies. Customizing your business fleet with vinyl lettering and vehicle graphics will get them noticed. Your company fleet is always on the move, working in target markets or in transit to new markets. Take advantage of "advertising on the go" with custom car lettering.
Car lettering and vehicle graphics, never clock out. They are always working for you, even if your business day is over. Use this round the clock advantage to further your business endeavors. Pertinent and relevant information can be gathered from well designed car lettering. Clear, straight forward information creates trust and faith in customers. Use custom car lettering and vehicle graphics to present that information effectively.
Car Lettering and Vehicle Graphics
Vinyl lettering and vehicle graphics can be made more effective by including images, logos or photographs. Addition of graphics can really draw the attention of potential customers. Explain more about your business or service by expanding your vinyl lettering into vinyl lettering and vehicle graphics. Businesses that include more than just text and numbers are viewed more professional and eager for new business. Vehicle graphics can help you bring your business alive.
You can easily and professionally install your own custom car lettering and vehicle graphics. With every vehicle lettering package we include complete, detailed installation instructions. If video instructions are more for you, we have a complete library of application videos. We demonstrate step by step how to successfully apply your car lettering. We go one step further and offer you our Goof-Proof guarantee. With this guarantee if you have any trouble applying any of your car lettering or car graphics, we will send you a replacement for free. Just a few reasons why you can't go wrong with custom car lettering.
Jump to: Facts | Testimonials | Videos | Gallery
<script type="text/javascript">var switchTo5x=true;</script> <script type="text/javascript" src="http://w.sharethis.com/button/buttons.js"></script> <script type="text/javascript">stLight.options({publisher: "86bf83f0-7ee9-4c74-bb04-7a1e186a0519"});</script> <span class='st_facebook_hcount' displayText='Facebook'></span> <span class='st_twitter_hcount' displayText='Tweet'></span> <span class='st_googleplus_hcount' displayText='Google +'></span> <span class='st_pinterest_hcount' displayText='Pinterest'></span> <span class='st_email_hcount' displayText='Email'></span>
Material has a shiny, satin finish
Lightweight and thin
Material has a shiny, satin finish
Easy to install
Includes Goof-Proof Guarantee
Easy to install
Available in reflective and translucent
Available in any size
Available in any shape
Available in any color, design or style
Recent Customer Testimonials
"I'd like you to know I am a satisfied repeat customer because you provide a convenient, affordable, service, in a timely manner. The quality of the product and the service is always good if not great.

I will continue to use your products and services and recommend them to anyone in the market for signage. Best wishes to all, keep up the good work!"

Cale Cardinal
Cardinal Gardens
Landscape Design and Construction

Design or Price Car Lettering & Graphics
Design Online
Price Now
Unlimited proofs with every sign. We send a proof of your design to ensure 100% satisfaction before we ship.

Free shipping on all Car Lettering & Graphics for orders within the continental US greater than $50 for ground and greater than $400 for freight
Is Car Lettering Right for you?
Use our material selection wizard to help you determine the right sign material for your needs.
Find Out Now
Vehicle Lettering & Graphic Options
Truck Vehicle Lettering & Graphics

Enclosed Trailer Lettering & Graphics

Van Vehicle Lettering & Graphics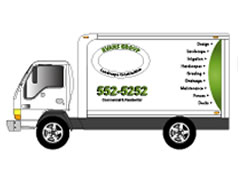 Box Truck Vehicle Lettering & Graphics

SUV Vehicle Lettering & Graphics

Motorcycle Lettering & Graphics

Boat Lettering & Graphics