Business Signs Promote Your Business and Help it Expand!
Business signs work almost as hard as you do. Nothing will help your business more than a custom business sign. A business sign in most cases is the first thing potential clients will see of you and your business. This first impression can in most cases increase your business volume by 30%. On the average, 85% of your target audience passes your business nearly ten times a month, it's just good business to make sure you have great business signage. Imagine the exposure your business will recieve with a well designed and placed business sign.
Custom business signs are available for any and all your business needs. Regardless if you need a custom business sign to display on the street outside your business or a new hanging business sign for the interior. Business signs say so much about you and your business. It's advertising at a glance, make the most of it. With custom business signs your business will see an immediate profit.
<script type="text/javascript">var switchTo5x=true;</script> <script type="text/javascript" src="http://w.sharethis.com/button/buttons.js"></script> <script type="text/javascript">stLight.options({publisher: "86bf83f0-7ee9-4c74-bb04-7a1e186a0519"});</script> <span class='st_facebook_hcount' displayText='Facebook'></span> <span class='st_twitter_hcount' displayText='Tweet'></span> <span class='st_googleplus_hcount' displayText='Google +'></span> <span class='st_pinterest_hcount' displayText='Pinterest'></span> <span class='st_email_hcount' displayText='Email'></span>
Business Signs Options
Acrylic Business Signs are the most popular for a sleek contemporary business image. Acrylic business signs are available in a variety of colors, sizes and styles. Acrylic business signs are completely customizable and can be produced in any shape and incorporate any art, design or logo. Combine your new acrylic sign with our standoffs for a finished polished sign presentation.
Door and Window Lettering and Graphics are one of the most economical options for custom business signage. With a variety of colors available, you can design business signage that really stands out and works with your existing business image. With an easy installation and maintenance, vinyl letters and graphics are ideal for business that want to get the most exposure for their investment. Vinyl graphics are available in any custom shape as well as standard square and rectangle shapes.
Foam Core Ultra Business Signs are the ideal choice for indoor business signs. Their light weight construction makes them perfect for retail applications as well as signage that needs to be mobile. Available with gromets for easy hanging and mounting. To help elevate your business name or message. Foam core ultra business signs can be stored and used repeatedly, which is perfect for businesses that have rotating specials or promotions.
PVC Business Signs are the most customizable interior signage. A PVC business sign can be any size, any shape and any style. Available in three thicknesses, PVC can give you an assortment of business images. By combining multiple pieces you can create a custom 3D business sign. Dimensional business sign can add depth, style and personality to your business image. PVC signs are light weight and with a variety of mounting options displaying your new custom business signage will be quick and effortless.
Business Banners are every where. An economical way to promote your business or organization, banners are one of the most popular choices for businesses. Custom banners are made from a sturdy durable 14 oz. material, and with a large selection of finishing options, we provide you all the tools to create the perfect banner for your business. Banners can be produced in various materials suitable for your business and your application. Because banners are light weight and flexible, they can be easily stored for repeated use, as your business grows or promotions change.
3D Letters help businesses create an established professional business image. Using 3D letters to create your business sign is an upscale look, with an affordable price. You can move ahead of the business pack with 3D letters incorporated into your business signage. They have style and flare, all their own. We produce 3D letters in all shapes, sizes, fonts and colors. We have a variety of mounting options suitable for the location of your new business sign.
Business Decals are great for marketing, advertising and business promotions in general. Applying decals to business windows, company vehicles, products or existing signage is success guaranteed when it comes to business exposure. Decals are like big stickers and can be produced in unlimited sizes, shapes, color combinations or styles. They are easy to apply and even come with a "Goof Proof" promise. Decals allow you to keep your business image consistent no matter what the avenue of marketing you decide to take.
Business Wall Lettering and Graphics allow you to continue to advertise inside your business. Applying wall lettering and graphics to the interior of your business, allows you to promote products, sales or limited promotions. Whether you decide on a permanent graphic for you business wall or a temporary message, vinyl letters and graphics are quick and easy to install. Choose from a variety of colors or create your own color and graphic combination.
Engraved Signs are sophisticated and elegant and give a polished look to your business sign. Engraved signs are available in plastic and metal, giving you a large selection of colors, finishes and engraving backgrounds. Because of their light weight construction engraved signs are easy to install. An affordable business sign, engraved signs are great for customizing your office signs, even if they change often.
Trade Show Banners and Displays in effect are business signs. Trade shows present your business to a large captive audience. Make the best impression by including trade show banners or displays in your company booth. The highest quality material and high definition printing make these products superior, perfect for trade shows. Not all trade show displays are exclusively for the trade show circuit. Retractable banners are great for interior marketing and advertising.
Aluminum Business Signs are still the most popular choice for custom business signs. This sign material has withstood the test of time and continues to deliver superb results. Many companies choose aluminum for their business sign because of the variety of options available. Aluminum is available in a multiple thicknesses, any size and importantly any shape. Any custom shape or design is easily produced from this versatile sign material.
Alumalite Business Signs and their unique construction, make them extremely strong while at the same time remaining light weight. Alumalite's strength and rigidity evolves from its plastic corrugated core that is sandwiched between two thin sheets of aluminum. Because alumalite is light in weight, it makes it extremely easy to install and mount. Business signs made of alumalite are traditional in shape but the design and style of your sign is limitless.
Dibond Business Signs are in essence aluminum signs with a solid plastic core. This construction adds body, rigidity and thickness to the sign panel. Business signs made of dibond have ten times the panel strength or .040 aluminum, making it an extremely strong and durable product when it comes to custom business signs. Available in any shape or size, dibond business signs are one of the most customizable sign options.
ARMOUR-Wood Business Signs are the strongest and most durable option when it comes to business signs. Constructed of a solid wood core, surrounded by two sheets of factory sealed aluminum, ARMOUR-Wood signs have the highest panel strength compared to all other sign materials. If you need a custom business sign that will be exposed to the elements or is located in a high traffic area, then an ARMOUR-Wood sign is the certain choice. These signs come standard with edge cap, which creates a professional finished framed appearance, as well as providing additional sign protection.
Coroplast Business Signs are perfect for temporary business signs. Use coroplast for business promotions, sales or temporary advertising. Coroplast, also know as "plastic cardboard" is a light weight material that is popular with everyone, from real estate agents to landscaping firms. Many business use coroplast to rapidly and quickly promote their business.
Dura-wood Business Signs are similar to the wood signs of days gone by, but with a modern adaptation. Dura-wood combines the ageless beauty of wood with the modern convenience of vinyl. Constructed of MDO plywood dura-wood signs are then factory sealed with a durable painted finish. Your new business sign is applied to this treated durable surface. These signs are practical and an economical choice compared to traditional wood signs. They have the appearance of a real wood sign but with the added benefits and protection of vinyl.
Sandblasted Redwood Business Signs are widely used when wanting a rustic, attractive, dimensional business sign. Made from solid knot-free redwood, these business signs are sandblasted, creating raised letters and images. This gives your new business sign more character than traditional flat signs. Available in any size, shape as well as single or double sided, redwood signs are modern signs with a nod to the old days.
HDU Business Signs are dimensional signs that can be created to compliment your business and its image. HDU signs have depth, character and durability. Because HDU signs are waterproof, rot proof and finished with a triple coated enamel, they are made to withstand the elements. Select from a large assortment of thicknesses and finishes. With a large amount of options, customizing an HDU sign can allow you to create a uniqe business sign.
Replacement Sign Faces are a great way to give your existing business sign a "face" lift. Changing out the sign face on your existing sign cabinet, is a great way to give your business a fresh look, while saving money. Avoid the investment of new lighted sign cabinets by simply replacing the sign face. We can help you customize a new sign face to work for you business. We also can gladly offer suggestions on how to freshen up your business image, by updating your current sign face.
Channel Letters help your business after the sun has gone down. Channel letters are great for exterior business signs, because of their built in illumination. With channel letters you can continue to advertise your business even after hours. We offer channel letters in a large selections of colors, fonts, styles and finishes, you are sure to find one that fits your business or promotional needs. Channel letters required electrical expertise so be advised before installation.

Design or Price a Business Sign
Design Online
Price Now
Unlimited proofs with every sign. We send a proof of your design to ensure 100% satisfaction before we ship.

Free shipping on all Business Signs for orders within the continental US greater than $50 for ground and greater than $400 for freight
Are Business Signs Right for you?
Use our material selection wizard to help you determine the right sign material for your needs.
Find Out Now
Materials Similar to Business Signs
Acrylic Business Signs

Door & Window Lettering & Graphics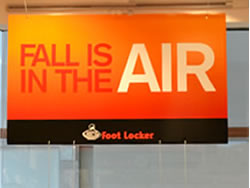 Foam Core Ultra Business Signs

PVC Business Signs

Banner Business Signs

3D Letters

Decals

Wall Lettering & Graphics

Engraved Business Signs

Trade Show Banners & Displays

Aluminum Business Signs

Alumalite Business Signs

Dibond Business Signs

ARMOUR-Wood Business Signs

Coroplast Business Signs

Dura-Wood Business Signs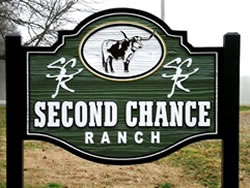 Sandblasted Redwood Business Signs

HDU Business Signs

Replacement Lighted Sign Faces

Channel Letters