Enclosed Trailer Lettering Makes Your Business Exceptional!
Enclosed trailer lettering enables your business to stand out as an exceptional business. Appying custom trailer lettering and trailer graphics to your company fleet will promote your business and services possibly more than any other marketing techniques. Say volumes about your business and what you can offer potential clients. Enclosed trailer graphics are always advertising and can be your very own custom billboard.
Your business will blossom and flourish with the use of custom trailer lettering. Having your vehicles on the move constantly creates mobile advertising and allows you to promote yourself and your business. Potential customers will love being able to get relevant information at a glance. A simple viewing of your enclosed trailer graphics and they will be able to retrieve information quick and easy. It's all about being in the right place at the right time. Trailer lettering guarantees that.
Enclosed Trailer Lettering and Graphics
Including images or photographs of your products can instantly capture the interest of potential new customers. Trailer graphics that include more than just text and numbers have shown to increase business and an increase in services rendered. Bring your business to life with bright large graphics, undoubtly will create a lasting impression. Full color trailer graphics can be made to fit any business or company vehicle size. Watch your business come alive by combining trailer lettering with graphics.
Installation of trailer lettering and trailer graphics really is a do-it-yourself project. Included with every enclosed trailer graphics package are complete application instructions. In addition we supply you with a collection of custom application videos. A step by step demonstration of how you too can apply your own trailer lettering. If at anytime you have an application issue, we have a Goof-Proof guarantee. Simply stated, notifiy us promptly and we will send replacements for any area of your trailer lettering or trailer graphics that could not be applied successfully.
Jump to: Facts | Testimonials | Videos | Gallery
<script type="text/javascript">var switchTo5x=true;</script> <script type="text/javascript" src="http://w.sharethis.com/button/buttons.js"></script> <script type="text/javascript">stLight.options({publisher: "86bf83f0-7ee9-4c74-bb04-7a1e186a0519"});</script> <span class='st_facebook_hcount' displayText='Facebook'></span> <span class='st_twitter_hcount' displayText='Tweet'></span> <span class='st_googleplus_hcount' displayText='Google +'></span> <span class='st_pinterest_hcount' displayText='Pinterest'></span> <span class='st_email_hcount' displayText='Email'></span>
Lightweight and thin
Material has a shiny, satin finish
Includes Goof-Proof Guarantee
Easy to install
Also available in reflective and translucent
Available in any size
Available in any shape
Available in any color, design or style
Recent Customer Testimonials
" I know that people are so quick to complain so I just wanted to send you a thank you. I rec'd my order yesterday and it was perfect. It has been a pleasure dealing with you and your company. If at any time in the future I need a sign you will be the 1st place I go. Yes, I will recommend you to anybody I hear is looking for a sign."

Michele Krame
Krantz Secure Technology

Design or Price Enclosed Trailer Lettering & Graphics
Design Online
Price Now
Unlimited proofs with every sign. We send a proof of your design to ensure 100% satisfaction before we ship.

Free shipping on all Trailer Lettering & Graphics for orders within the continental US greater than $50 for ground and greater than $400 for freight
Is Enclosed Trailer Lettering Right for you?
Use our material selection wizard to help you determine the right sign material for your needs.
Find Out Now
Vehicle Lettering & Graphic Options
Truck Vehicle Lettering & Graphics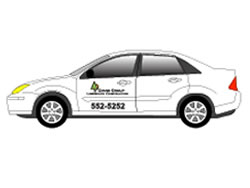 Car Vehicle Lettering & Graphics

Van Vehicle Lettering & Graphics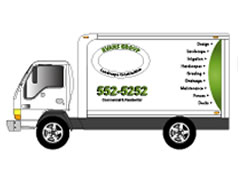 Box Truck Vehicle Lettering & Graphics

SUV Vehicle Lettering & Graphics

Motorcycle Lettering & Graphics

Boat Lettering & Graphics