Box Truck Lettering and Graphics Help Create Demands for Your Business!
Box truck lettering and graphics work. All businesses depend on advertising to advance their business. Commercial truck lettering is one sure way to advertise successfully. With box truck lettering you create the demand for your business. Using truck graphics to inform an audience about who you are, your service and how they can contact you is vital to business survival. Box truck lettering allows you to represent your business the way it should be marketed. With box truck lettering and truck graphics you put your best foot forward, allowing target audiences to have exposure to your business.
Box truck lettering keeps your business looking professional. Well designed and placed custom truck lettering produces a fleet of vehicles that are business proud and that welcome exposure. Truck graphics allow you to promote your business, advertise specials or display contact information. All this being extremely important for a buisness that hopes to grow rapidly from word of mouth,referrals or simply from being seen on the streets.
Box Truck Lettering and Graphics Vinyl Options
It's the extreme outdoor conditions such as sun, rain, snow, and even regular cleaning that makes the grades of vinyl so important, when it comes to box truck lettering. So, we are proud to offer four grades of vinyl for box truck lettering and truck graphics. More than any other online sign company. Our grades include Economy, Standard, Premium and Reflective. We understand sometimes too many options can be over whelming but we promise to keep it simple, however we do believe it's important to understand the differences between these grades of vinyl before ordering your box truck lettering or graphics.
Economy Vinyl: Our economy grade vinyl is a quality product, which can last up to 3 years outdoors. It is available in a vast array of colors and has a built in UV resistance. It's great for retail sales and specials, spaces for rent or lease, or any temporary box truck lettering message.
Standard Vinyl: We also offer Standard Grade Vinyl. This grade of vinyl can last up to 5 years outdoors. It is a higher quality vinyl, with lamination and is also available in any color. This laminate provides UV protection and scratch resistance. These great qualities make it a popular selection for commercial truck lettering, truck graphics, and messages you want to commit too for a bit longer.
Premium Vinyl: Now the third grade of vinyl, it's our most popular, is our Premium Grade and it's perfect for box truck lettering. It's a "top shelf" product, it can last up to 7 years outdoor because it is a 3M premium vinyl, and it too is UV protected. Our clients give this vinyl "rave reviews". Premium grade is the perfect choice for truck graphics and business branding, changing climate locations, and more permanent box truck lettering.
Reflective Vinyl: Another grade of vinyl is our reflective grade. This vinyl has a reflective quality, like no other. It's our finest vinyl grade, has unsurpassed UV protection, and produces a light reflecting finish. This vinyl is great for box truck lettering located on the front and rear of vehicles, and any other location you need some "illuminating" when the sun goes down. Ideal for vehicles that continue to work after dark.
<script type="text/javascript">var switchTo5x=true;</script> <script type="text/javascript" src="http://w.sharethis.com/button/buttons.js"></script> <script type="text/javascript">stLight.options({publisher: "86bf83f0-7ee9-4c74-bb04-7a1e186a0519"});</script> <span class='st_facebook_hcount' displayText='Facebook'></span> <span class='st_twitter_hcount' displayText='Tweet'></span> <span class='st_googleplus_hcount' displayText='Google +'></span> <span class='st_pinterest_hcount' displayText='Pinterest'></span> <span class='st_email_hcount' displayText='Email'></span>
Lightweight and thin
Shiny, satin finish vinyl material
Includes Goof-Proof Guarantee
Easy to install
Also available in reflective and translucent
Available in any size
Available in any shape
Available in any color, design or style
Recent Customer Testimonials
"Cannot thank you enough for the awesome signs! Both were perfect...I have NO complaints and will recommend you to anyone else looking for banners/road signs, etc."

Julie Notton
Wando Music Mentors

Design or Price Box Truck Lettering & Graphics
Design Online
Price Now
Unlimited proofs with every sign. We send a proof of your design to ensure 100% satisfaction before we ship.

Free shipping on all Box Truck Lettering & Graphics for orders within the continental US greater than $50 for ground and greater than $400 for freight
Is Box Truck Lettering Right for you?
Use our material selection wizard to help you determine the right sign material for your needs.
Find Out Now
Vehicle Lettering & Graphic Options
Truck Vehicle Lettering & Graphics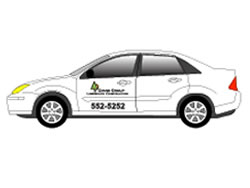 Car Vehicle Lettering & Graphics

Van Vehicle Lettering & Graphics

SUV Vehicle Lettering & Graphics

Motorcycle Lettering & Graphics

Enclosed Trailer Lettering & Graphics

Boat Lettering & Graphics