Truck Lettering and Graphics Express Your Business' Services and Products!
Truck lettering and graphics will aid you in making a big business impression. Announce special offers, supply product or service information and generate excitement and high business visibility, all while you motivate customers. Truck lettering will enhance your productivity, inspire you creativity and express your business talents. Truck lettering and graphics is an investment businesses that are mobile can't afford not to participate in. Increase your sales, customer base and overall exposure of your company with custom truck lettering and graphics.
Your new custom truck lettering will be as unique and professional as your business. You strive to stand out from your competition so why leave its fate up to a plain work truck or vehicle. With our help you can create unique truck lettering and graphics that will elevate your business and set you ahead of the competition.
Truck Lettering Design Options
Just as you spend time selecting the services for your business, we provide you with a vast array of truck lettering and graphics to choose from. You have multiple design options. Including, design your own, upload an existing image or access to our graphic designers at no cost to you.

Countless choices when it comes to customizing your truck letters and truck signs, anything from custom shapes, to custom logo and images, and even reflective vinyl. We provide you with the most comprehensive selections of vinyl and vinyl accessories for your new custom truck lettering and graphics. You can even choose how we ship your new truck lettering; free shipping is standard on most truck letters and graphics.
If by chance you haven't found or can't come up with an idea for your truck letters and graphics for your need or business, let us help you. We offer free custom truck lettering designs. Yes free. Simply tell us about your need or event and we will create truck lettering and truck graphics especially for you, with no obligation. And what's even better is your personal truck lettering designs will be available for you to re-order anytime as your business needs increase. It's a great option for contractors, realtors, and public service vehicles.
<script type="text/javascript">var switchTo5x=true;</script> <script type="text/javascript" src="http://w.sharethis.com/button/buttons.js"></script> <script type="text/javascript">stLight.options({publisher: "86bf83f0-7ee9-4c74-bb04-7a1e186a0519"});</script> <span class='st_facebook_hcount' displayText='Facebook'></span> <span class='st_twitter_hcount' displayText='Tweet'></span> <span class='st_googleplus_hcount' displayText='Google +'></span> <span class='st_pinterest_hcount' displayText='Pinterest'></span> <span class='st_email_hcount' displayText='Email'></span>
Lightweight and thin
Shiny, satin finish vinyl material
Easy to install
Includes Goof-Proof Guarantee
Available in any size
Available in any shape
Available in any color, design or style
Also available in reflective and translucent
Recent Customer Testimonials
"I bought 6 signs for 3 trucks and after putting on the first and second signs, I felt that I had a strong grasp of application! The videos worked out great and helped with each step of the application. My only problem was losing a small "c" that somehow folding in half and perfectly lined up with the other half, making it impossible to salvage the letter and reapply it to the vehicle. That was completely my fault and just was a matter of the right amount of applicator and the speed that I was peeling the backing off/applying. Anyway, attached are 2 photos of the signs. I intentionally wanted to go with a simple design, so they turned out exactly as I was hoping."

Jeremy J. Harnish
William E. Harnish Acoustical, INC.

Design or Price Truck Lettering & Graphics
Design Online
Price Now
Unlimited proofs with every sign. We send a proof of your design to ensure 100% satisfaction before we ship.

Free shipping on all Truck Lettering & Graphics for orders within the continental US greater than $50 for ground and greater than $400 for freight
Is Truck Lettering Right for you?
Use our material selection wizard to help you determine the right sign material for your needs.
Find Out Now
Vehicle Lettering & Graphic Options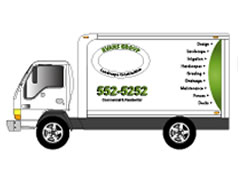 Box Truck Vehicle Lettering & Graphics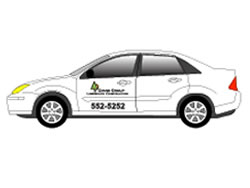 Car Vehicle Lettering & Graphics

Van Vehicle Lettering & Graphics

SUV Vehicle Lettering & Graphics

Motorcycle Lettering & Graphics

Enclosed Trailer Lettering & Graphics

Boat Lettering & Graphics